tell me the Dog Breeds ??

India
December 17, 2006 6:45am CST
1 response

• India
17 Dec 06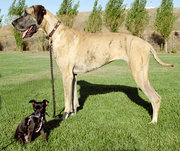 Dog breeds can be divided into different categories, such as: • Hunting o Hounds, including Sight hounds and Scent hounds o Gundogs, including Pointers, Retrievers, and Spaniels o Terrier o Curs and Feists • Working (or Utility) o Pastoral dogs, including Livestock guardian dogs, Guard dogs, Herding dogs, Sheepdogs, and Drovers o Sled dog • Bulldogs • Extinct dog breeds • Fighting dogs • Toy Source: http://www.answers.com/topic/list-of-dog-breeds To know more please visit the source page.