Do you Like Flowers???

Bangladesh
9 responses


• India
20 Dec 06
i love flowers which are beautiful... more i prefer flowers which have a good fragrance especially rose............

• India
17 Dec 06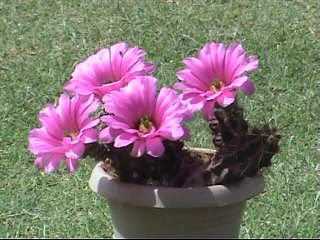 Yes! I like flowers. I love all type of flowers for their beauty, fragrance, color and function! They re the reproductive parts and help in propagation of the plnt's or trees progeny!You must have seen many flowers! Have you ever seen flowers by cactus! I have seen several of them and I am fascinated by those flowers. From a such dry xerophytes it is really amazing to get so nice colorful and delicate flowers! They don't have any fragrance but are look beautiful to look at with brillient and bright colors. They don't last for many days on the plant.But the few days for which they are on the plant makes you so happy that you forget about every thing and always be with and around those flowers with some or other excuse!They are really that attractive and charming!