Dance exercise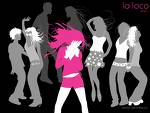 Philippines
December 17, 2006 9:10am CST
I want to go back to dancing. It was my best form of exercise when I was single. I feel heavy after 3 children but they are the reasons I can't do it because of time. What should I do?
8 responses

• United States
11 Jan 07
Hey I know how it goes I don't have kids but I was a 24/7 nanny for a while and at night sometimes there mom would go dancing when I desperately wanted to. I found it a blast to teach the kids how to dance I loved it and so did they it was good for all of us. I also turned on music while I cleaned or cooked and kinda danced along with that.

• United States
6 Jan 07
Im not sure how little time you have now becuase i dont have children but i can say try to get your children out of the house once a week to take a dance class. Unfortunatley now a days dance classes arent offered for more than 90mins, some no more than 60mins so maybe that can be to yoru benefit. If not, by a pilates tape and take time aside while they are sleeping and get your work out on!

• Philippines
8 Jan 07
Thank you very much for the response. Whenever I'm off from work, I have to attend to them. I really have to find time for myself first.

• United States
5 Jan 07
There are alot of exercise programs that are based on dancing. You can go to your local video store and rent one out before you deside to buy one. They are great.

• Philippines
8 Jan 07
Thank you very much. That's a convenient way to start.

• Singapore
4 Jan 07
I think if you like dancing then you will find time for it. Its the best form of exercise. I generally dont spend time specially for going to gym and doing exercise, but when its dancing I feel so happy.....exercise plus enjoyment....which keeps you fit n fine

• Philippines
8 Jan 07
I really like dancing, but my priorities has changed and I need to find time even for myself apart from my family responsibilities. Hoping for it's possibility.

• India
28 Dec 06
I love dancing, it really makes me feel energetic and refreshed! I think that dancing is a very good form of exercise, i have been dancing since i was born! I love music and it really tempts me to dance. I have also been learning indian classical dancing since 11 years! You are asking a question as well as answering it yourself! Its very simple, you dont need to specially remove time to dance, just switch on the music and you will begin to tap your feet and swing to the groove! You said that you have three children, so you must already be dancing around them, you can also dance with them! You can also start dancing classes, it is a good idea. You will earn as well as dance and your time wont be wasted in this way.

• Philippines
8 Jan 07
Thank you. Dancing classes can be a good idea. Thank you.

• Romania
19 Dec 06
you should make time to go!!if you like it that much you should go. dont wory about the kids,make your time like that so you can go. or...you can take the kids to dance to.maby they are good and they can make something good whit dancing

• Philippines
22 Dec 06
Hi, thank you for the suggestion. Lately, I have discovered that all my kids ages 8,3 and 1 are all dance enthusiasts. We will all dance to music whenever we're having a leisure time. But you know, it's still not so much sweat dancing when you have the kids around, it's just having fun doing it together.

• United States
17 Dec 06
ihave denise austin dance excersise videos

• Philippines
18 Dec 06
I hope I can get one too. Thanks for the suggestion.

• Sweden
17 Dec 06
if dancing is your passion, your body will look for it. you can stay home. listen to music. and you can jive with the music. you don't need to dance with the technical steps. since you're only at home, you can dance in anyway you want! or you can buy dance tapes that give you instructions.. a step by step instruction to follow. you'll surely enjoy following the steps.