Landing on the MOON, was it really a HOAX?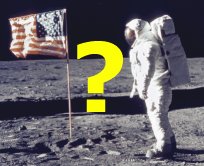 Philippines
December 17, 2006 12:49pm CST
we've been watching some documentary of scientific evidence etc.. of all the gathered facts and evidences of fraud and decieved information in history... do you believe, that man really reached and landed the moon? is it really the greatest lie of our history? pls tell me whats your views.
3 responses


• Philippines
17 Dec 06
i think so, russia, made it a pont not to risk, outer space with humans are really risky of lots of solar radiation that could kill instantly.. i hope people will stop making a historical hoax, and make us have the knowledge of genuine ones instead, thanks, have a good day.

• Craig, Alaska
8 Dec 07
I don't have tv. but I was reading at a site thats from national geographic.com about this tv that was on called" Conspiracy Theory: Did We Land on the Moon?" Anyone hear of that show or watched it. I think its just horrible that someone from NASA would like about the landing on the moon in the 60's didn't happen. When NASA has proof that it did happen. These people that did the interview with this show probably weren't one of the people that went with that crew on the moon that time period. Some People in this world will do will do anything to get publicity and money. I think its awesome those men went on the moon. but these lies that are being told are horrible. read here to learn more. http://liftoff.msfc.nasa.gov/news/2001/news-moonlanding.asp