FAVORITE FOODS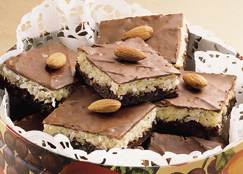 United States
8 responses

• United States
20 Dec 06
At the moment, I'm thinking pizza with extra cheese. Maybe with spinach topping. However my favorite food does have this strange habit of changing day to day.

• United States
20 Dec 06
Mine changes depending upon my mood as well. Pizza does sounds appealing. I've never tried spinach for a topping though, is it good?

• United States
20 Dec 06
Usually, the pizzas I enjoy, the most dominating flavor is the somewhat-spicy tomato sauce, & in my case, the mozzarella cheese. If one doesn't like the way spinach tastes, the dominating flavors does help the spinach taste. Pizza can actually be a meal in itself, as you got your bread (the crust & breading), then the meat (even if cheese is considered a dairy product) & vegetable (that being the tomato sauce). Spinach (I also like chopped broccoli as an alternative) provides the "green" food. Something I occassionally do is get Elio's microwaveable, & a package of shredded cheese, & add my own spinach &/or broccoli topping, & microwave it. I have not gotten around to trying peas & carrots or mixed vegetables yet, but one day I will. However, usually, the best pizza is usually bought from a pizza place, but it usually costs more.

• United States
14 Feb 07
I could never give up lobster or pizza. I love both, and cannot think of never eating them again.

• United States
17 Dec 06
I could never give up mac and cheese. its my fave thing to eat. i could eat it all the time.

• United States
18 Dec 06
MMmmm, Good, My Mother growing up made the sauce from scratch by melting american cheese in mile with flour and seasonings. It was the best! I whimp out and use cheese whiz and hot noodles, mine is marginal! Nothing like the old fashioned way, just who has the time and patience! Thanks!

• Slovak Republic
28 Feb 07
I would say that of all the food I like I can never give up fried and barbecu chicken! I so love them especially if it is cooked right. Although i have developed some alergies becaus of eating too much chicken as my doctor had said still I can't last a day without a single bite. At least now I moderate my consumption but I still make it a point to include it on my meal. It's everything I ever wanted and liked... another reason why I can never be a vegan.


• United States
16 Feb 07
I could never give up barbeque chicken as I love that more than any other type food. I love chicken in all types of seasonings or mixed with other types of dishes and salads. Chicken has always been my favorite food and get teased a lot about it. It is the first thing I look for on the menu at any restaurant. :-)

• India
15 Feb 07
yes all of us have some of the food as favourite.I like north indian foods a lot.I am also fond of chocolates and icecreams.In chocolates white chocolate is my favourite and in vanilla flavour in icecreams.What about you?