What's Your Country's Specialty Dish? let's exchanged RECIPE's........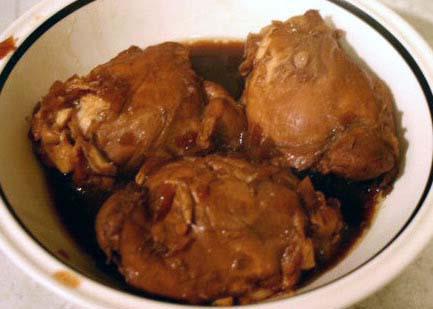 Philippines
December 17, 2006 11:34pm CST
Here's one of my favorite dish. You can do this in chicken and Pork or you can actually combine the two. Chicken adobo is a tasty dish from the Philippines, and is one of my personal favorites. It is a staple you will find in nearly any Filipino household. I'll walk you through how to make this super easy dish. So how much of everything do I use? This is the beauty of adobo. Adjust everything to your taste. You can't really go wrong. Some people don't like too much vinegar, so they prefer a 1:1 ratio of vinegar and soy sauce. Other people like the vinegar but prefer to use a milder rice vinegar over standard white. Do whatever you want! (Don't like chicken? Pork adobo is great too!) Here's what I like to use: 3lbs chicken thigh 3/4c white vinegar 1/4c soy sauce 1/4ts peppercorns (crushed) 1/4ts salt 3 garlic cloves (chopped or crushed) 2 bay leaves 1/4 of a medium onion (chopped) Step 1: Chop the onion and garlic. Step 2: Fully chopped: Step 3: Get out your soy sauce and vinegar. Step 4: Add the soy sauce and vinegar to our chicken. Go ahead and toss in those onions and garlic, too. Step 5: Next step is to take your salt, ground peppercorns, and bay leaves. Step 6: Add 1/4ts peppercorns (crushed), 1/4ts salt and 2 bay leaves to the pot. Step 7: Mix it all up very well. Step 8: And then cover it. We need to let this marinate for 1-3 hours. Step 9: Two and a half hours seems fine to me. Let's get this baby cooking. Bring 'er up to a boil, and then let it all simmer for about 40 minutes (or until the chicken is thoroughly cooked.) Step 10: Almost done: Step 11: Serve in a bowl with some of the sauce. Ideal sidedishes are steamed rice, and veggies (not pictured.) That's all there is to making chicken adobo. I hope you all enjoy this simple (but excellent!) Filipino dish.
No responses