What was your imagination about rain?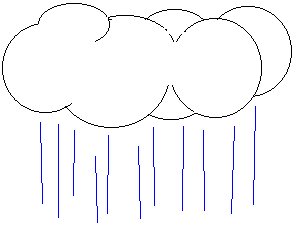 India
December 18, 2006 4:50am CST
When I was small about 4-5yrs old, I used to think...why & how does rain fall occurs? Then, I used to imagine thinking that mom has said gods live in sky (heaven) so they would be washing their house due to which rainfall occurs. Sometimes I also used to think may be gods are taking shower due to which rainfall occurs. But then I used to think if my thinking is right, then rain water is really dirty because thats the water god has used to clean his house. I discussed about this with my friends of same age who had their different imaginations about rainfall, so we went to our parents & asked them, how/why does rainfall occur? They thought science is difficult for us to understand at that time as well as it was difficult for them to explain why/how rainfall occurs (to 4-5yrs old kids), so their answer used to be 'they don't know.' We thought they really don't know & discussed all our opinions about rainfall. All our parents laughed at our imagination & now when I know the answer to rainfall question I also laugh at my imagination of that time. Did you ever imagined about why/how does rainfall occurs in childhood? Or, what was your thinking about rain? And, do you like rain?
No responses