Diamond Lovers!!!!!!!!!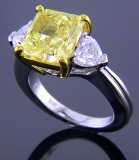 India
December 18, 2006 9:22am CST
which is ur Favourite accesory in Diamonds? give me responses of which accesory they like the most and wud like 2 have it first on their box....... 1)Ring 2)Pendant 3)earings 4)Necklace 5)Bracelet 6)any choice of urs!!(it can b anything) well....i wud like to hav all of them.....hehehe....as diamonds are knw as girl's best friend....i wud like to hav a diamond ring... Answer me ur choice and find out wat people like the most!!!!!Waiting for replies.
1 response

• Denmark
18 Dec 06
I'm not a big fan of jewlery, but diamonds are just cool because everyone knows how expnsive they are. I would prefer to have only the diamond, not inserted in anything :-)