Lumbergh door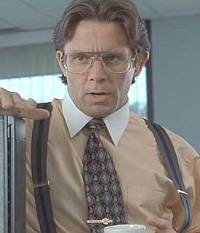 United States
December 18, 2006 3:47pm CST
Do you have a "lumbergh door" at work? A side door you use when you get to work so your boss doesn't see you? If I was out partying the night before, I usually come in the side door and stay put at my desk until I get a couple cups of coffee in me, ha ha ha!
1 response

• United States
18 Dec 06
I sort of do. My boss's office is right next to an entrance. I never enter through that door. There are too other doors that are quicker (and quieter) routes to my desk. Office Space kills me.

• United States
18 Dec 06
I loved that movie! :) I always use the Lumbergh door. I just don't want to see my bosses (any of them, I have like 6 or 7) first thing in the morning.

• United States
20 Dec 06
Its so bad, I even skipped the office party to stay at work. I am one of 2 people here out of 60+ people in our office.