CArtoon That you like..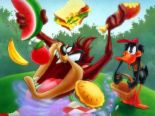 Malaysia
3 responses

• Malaysia
19 Dec 06
LOL I like Shincan also because of his naughtiness. And he is very cute too. Especially when he meets pretty girls his cheeks will turn red just like his father. I also like his little sister.. what's her name I didn't remember but she is one little naughty girl. At one episode she messed up the whole house and Sinchan was blamed for it. Pitty Sinchan! LOL it was fun watching this cartoon.

• Malaysia
19 Dec 06

yes...Shin Chan is naughty and funny.... hahahaha.. so funny

• China
5 Nov 07
I like japanese cartoon ,it's too many ,for example,dog demon......