Can Dada make it to the one day team?

India
December 19, 2006 3:09am CST
Dada (Saurav Ganguly) has shown his critics how dangerous it is to write him off. He was considered incapable of playing in tests and that's where he has proved his worth. Doesn't it make sense now to include him in the one day team as well? What do you think?
10 responses

• India
20 Dec 06
I think he will make it to the team for ODI also.He is an experinced player and a very good ODI player too. During the last 10 months he made himself more tough and technically correct. So it is always on that he will come into the ODI squad and even in the World Cup.

• India
19 Dec 06
sure the way he is playing nowdays he came make a comeback in one day team

• India
20 Dec 06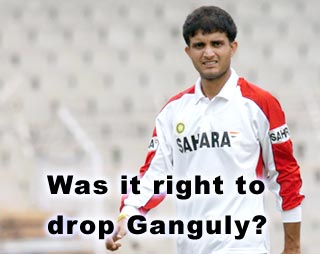 Ofcourse he has proved himself that he has been playing well these days. also he has scored a winning half century in south africa. he has a good record against south africa. I am sure that dada will be oneday team.

• Australia
20 Dec 06
sure, they will need his leadership in the World Cup thats for sure


• India
20 Dec 06
he should make it to odi as he is working very hard on it and it is shown by his performance



• India
22 Dec 06
Well, he should be given a chance, considering that he has performed reasonably well in one test, and then maybe Kaif should also be give a chance based on a one off performance? I think it's better to wait and watch how he perfroms in the remaining tests against S Africa and then maybe the management should take a call on including him in the one day team.