History of ashes test cricket?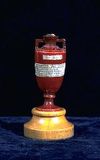 India
December 19, 2006 6:31am CST
The Ashes is a biennial Test cricket contest played between England and Australia. The series is named after the trophy, which is a small wooden urn said to contain the burnt bails from an 1882 game at The Oval. Each Ashes series typically consists of five Test matches, and the series alternate between the two countries. In the cricketing world, the Ashes is regarded as one of the sport's most famous and fierce rivalries. share your knowledge...
7 responses

• India
19 Dec 06
yes,ashes is probably the most intriguing and grueling sports contests. the 2005 series was amazing for its quality and spirit.i would like to post a very funny incident from the ashes series. the sledging... MARK WAUGH FIELDING AT SILLY POINT REMARKED TO A NEW ENGLISH BATSMAN- "HEY MATE WHAT R U DOING HERE... U DONT SEEM GOOD ENOUGH TO PLAY FOR ENGLAND" THE ENGLISHMAN REPLIED " YES MAY BE BUT AT LEAST I M THE BEST IN MY FAMILY."

• Australia
22 Jan 07
Yes I'm a bit cynical about cricket. I'm glad the Ashes are finally over for another year. The Ashes Urn has been touring Australia and recently came to my hometown, where it got turnouts of over seven thousand people a day. That's much more of a response than any other touring cultural artifact or exhibitions that I can think of. Cricket means a lot to people where I come from so you can't help but know a bit about it. It's almost like discussing the weather, everyone has an inkling on the latest. At the same time, I think it's a ridiculous sport; essentially only three people are involved in the action at once, one of them only marginally. Hours can pass without anything interesting happening except for one of the two men batting getting an especially big hit. In the whole of Australia there are eleven men on the team at once, and they are all held up as heroes. Where is the competition? They have a 'cricketer of the year award' that they give out every year. There's eleven people in the team, whats the point!! The players have one skill and that it why they're on the team, they can either bowl, or bat. Players who can do both are extremely well-regarded. And yet these people are in the news every day and their entire life is examined in the media. Everyone in Australia feels like they know Warney, whether you like him, hate him, or don't even care one way or the other. Cricket is interesting at one certain time: in the last few overs of a one-day match when a team needs to score so-many runs off so-many balls to win the game. Test matches are not entertaining in any way and take up way too much tv and radio space. Wouldn't you rather play in the backyard with a few mates? I can see how and why people love cicket, but I think as a game it needs to evolve before it is interesting enough for me to enjoy. Make it faster and more involved, less about stats (since the stats are self-referrential i.e.only interesting in terms of comparison with other cricket stats) and more about immediacy. This is just my opinion, but maybe the batsman should have to protect the stumps at all times and anyone can bowl from anywhere outside a circle which the stumps are in the middle of. I much prefer soccer. Just my opinion tho, I'll bat if you want.



• India
19 Dec 06
cricket is a very good game , a game of passion so i love it , ashes is the symbol of revenge