The San Diego Chargers NFL Team - 2006 AFC West Champs

United States
December 19, 2006 8:37am CST
I'm so proud of the San Diego Chargers this season! I have had a good feeling about this season ever since way back in the pre-season days. I don't know how to explain it, I just knew that it would be a big year for them. I had not been studying up on the players and their talents, the coaching staff or anything like that. I just had a good gut feeling about them and I wish them well against the game with the Seattle Seahawks on Christmas Eve.
3 responses

• United States
19 Dec 06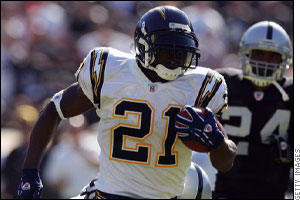 I think you're right, It seems like everything is going the Chargers way this year. In past years if a call could go either way it would go against the Chargers. This year we have the infamous Vincent Jackson "forward pass" where he spun the ball after not being touched and we somehow got that back. Then on Sunday night we have the blocked punt that goes beyond the line of scrimmage and we somehow get that back. I just hope they keep it going, 2 more wins and home field advantage is guaranteed!

• United States
20 Dec 06
That "blocked" punt situation was very interesting. Also, that "fake" punt on a 4th down was really something!

•
19 Dec 06
As I am in England I do not really follow NFL but I am pleased for you that your team is doing well and hope you enoy the Christmas eve game too! Hope it is the start of a wonderful christmas for you nd your loved ones.

• United States
5 Jan 07
Right, that's why I always make sure to say NFL instead of football, which in your case is known to us as Soccer. The Christmas Eve game went well and so did the one on New Years Eve! Regular season is over and the Chargers have 2 weeks off before their first post-season game.

• United States
19 Dec 06
I think it's been a great year, but sometimes I felt it was just pure luck. I've seen them play better, though they have made quite a few outstanding plays. Last Sunday's game agains the Chiefs was excellent and I hope they continue playing that way.