How Stella Got Her Groove Back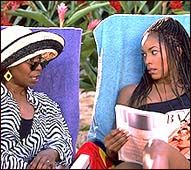 United States
December 19, 2006 11:23am CST
What is this movie about? My mom wouldn't let me watch it when I was a kid, and my fiance doesn't want to rent it with me, either. Is this movie bad??? Why doesn't anyone want me to see it?
1 response

• Belgium
19 Dec 06
here is some information... Plot Summary for How Stella Got Her Groove Back (1998) Stella (Angela Bassett) is a highly successful, forty-something San Francisco stock broker who is persuaded by her colorful New York girlfriend Delilah (Whoopi Goldberg) to take a well deserved, first-class vacation to Jamaica. As she soaks in the beauty of the island, she encounters a strapping, young islander, Winston Shakespeare (Taye Diggs). His pursuits for her turn into a hot and steamy romance that forces Stella to take personal inventory of her life and try to find a balance between her desire for love and companionship, and the responsibilities of mother and corporate executive. It has 5*10 at imdb.com so i would not watch it.

• United States
19 Dec 06
Oh...so it should be called Stella Got Laid??? That explains why mom and hubby don't want me watching it!