Lending Money to Friends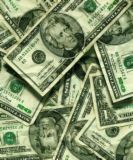 Philippines
December 19, 2006 5:40pm CST
I don't want to sound callous or anything. I just want to get some opinions on this topic. I have lent money to friends, old and new ones, but most of them did not pay me back. You know the old story, lend me this, I'll pay you back in a week or two, until they all forget to pay. I don't like to ask them to pay since it bothers me that I still HAVE TO. I mean they should be responsible enough to pay or do they get selective amnesia ( LOL )? Has anything like this happened to you and how did you get them to pay their loan?
2 responses

• United States
19 Dec 06
Here is one old saying in Latvia: If you dont want to lose friend, dont lend him money. ;)

• Singapore
20 Dec 06
well, it will depend on the amount of the money...if it's small i will not say anything...but if it's big amount, i will keep on giving the 'gentle reminders' until they cant stand it and pay up..hehe...but then, it's better not to lend any money to friends...unless you are mentally prepared that you will never get back the money. or maybe next time, get the exact date when they will pay you back...and you tell them that no matter what, they have to give you back the money on that day as you really need the money..

• Philippines
20 Dec 06
Maybe my problem then is not lending money but how to get my money back! LOL. It is sometimes very hard to let down a friend and I don't want to ruin a friendship just because of money. I hope other people realize this. Yes, it would be better not to lend money at all.