Dancing movies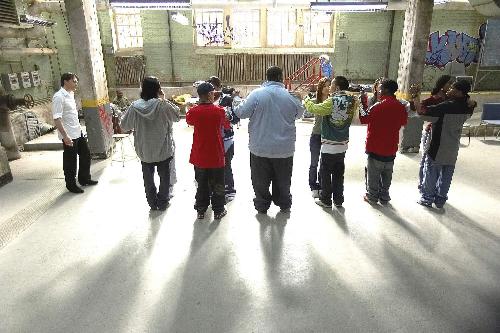 United States
December 19, 2006 6:08pm CST
I am so sick of all of these "dancing" movies and the cheerleading movies, like Take The Lead, Step Up, Bring it On, etc. It all started with "Save The Last Dance" and now it will never end! :( Anyone agree with me? I'm sure the list is longer than what I've got, but I can't name them all.
3 responses

• United States
12 Feb 07
I really liked "Save the Last Dance" but I agree with you. That latest one was really stupid. The guy could not dance. The one with the Sean Paul song on the soundtrack...it may have been "step up" im not sure.. and don't forget dirty dancing havvana nights. I can't believe they made a bring it on part 3.

• United States
22 Feb 07
Bring It On 3???? Oh migod. How many times can you "bring it"?? Sheesh. I actually liked Save the Last Dance but only b/c that guy is so juicy hot (her boyfriend in the movie) and it actually had somewhat of a plot to it. These other ones are so stupid, though, I hate them. I haven't seen Dirty Dancing, isn't that Patrick Swayze?

• United States
16 Jan 07
I guess I am an odd ball I love these type of movies. I also like survivor, american idol, dancing with the stars. I have always loved these type of things. I like chic flicks to horror flicks. So I like a wide variety of movies and shows.

• United States
20 Jan 07
You and my mom would get along. I can't even call her on Thursday nights anymore because she's watching "her shows". It drives me nuts! :)

• Canada
29 Dec 06
The fact is there are only so many life scenarios that are worth bringing to film. It's not just dance movies, but musicals, love stories, and...YAWN...horror films. I would say the same problem is happening with reality shows like Survivor, Dog Eat Dog, Dancing with the Stars, American Idol, Canadian Idol, etc. Did it ever occur to you that the talent competitions are ALOT like the Gong Show from the 70s? That just makes me laugh. You know that means the producer of the original Idol show, was probably a child and a fan of the Gong Show.*Laughing*!

• United States
2 Jan 07
I've never heard of the Gong Show. But I agree with you, esp. about the horror movies. I am a BIG fan of scary flicks. But the problem is, EVERY SINGLE ONE HAS BEEN DONE BEFORE. Perfect example, Saw. I loved this movie when it first came out, I thought it was genius. But now there is Saw III! How many times does a guy have to lock someone in a room with a bomb in his stomach b/4 it gets old? And then there were all those copycat Saw movies that came out, I can't remember the name b/c I didn't watch it but the one where it's like a reality show, Fear something she goes on this reality show about not being scared? You know what I'm talking about? I like movies that are original and have some real thought to them, not cheap ripoffs of other people's work & ideas!!!