What's the best thing about Christianity?

India
December 20, 2006 1:18pm CST
I'm a hindu by birth.But I'm very much in love with christianity.But the problem is,I don't know too much about the religion.Whatever I got to know about it was good.So it is only obvious that I want to know more about it.So please give me your version of it and the best thing about it.
3 responses

• Netherlands
22 Jan 07
The answer to this is simple: the best thing about christianity is Jesus and the personal relation you have with Him.

• Poland
20 Dec 06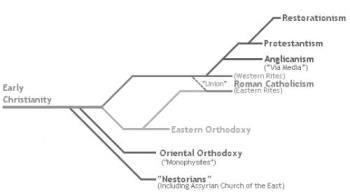 first of all christianity cosists of many groups. Catholic Church, Roman Catholic Church, Latin Rite, Eastern Catholic, Eastern Orthodox, Oriental Orthodox Churche, the Assyrian Church of the East, Protestantism, Anglicanism, Lutheranism, Reformed/Presbyterianism, Evangelicalism, Charismatism, Baptistism, Methodists, Nazarenes, Anabaptists. i know there are diferences but i dont know what are they.

• Malaysia
20 Dec 06
the love and support that you get as well as a great bunch of friends.