Your Zodiac Sign?

United States
December 20, 2006 11:32pm CST
Have you ever looked up the characteristics of your birth sign? Do you TOTALLY agree or disagree? I TOTALLY agree with most of mine (Gemini) except I lack some of the social skills and outgoing nature that Gemini should have, which I believe is a result of my upbringing and environment. I am definately like the Twins of Gemini though - 2 people, 2 sides of the same coin.. My husband is a Sagitarrious and he also exhibits strong characteristics of his sign.. The leadership, humor, social skills, etc. I do not believe in daily horroscopes because anyone can write them.. but I do believe there is definately some validity to astrology and zodiac signs.. You can look yours up here if you haven't before - http://www.quizilla.com/stargazing/ (scroll down) what do you think?
5 responses

• Sweden
21 Dec 06
i was born in october. that makes me a libra! and yes. my personality proves that i am really a libran. i am compassionate. i wanted things to be balanced. i am fragile and when i am inlove, i give it all.

• India
7 Oct 10
Hello girl Yes my sign is sagitarrious like your husband and i have strong faith upon easten astrology, only, this is done on the basis of exact time, place and date of birth, my stones according to this are red-coral and yellow sapphire, i wear them always, they effect me, i am sure Thanks for sharing. Cheers. Professor. .

• United States
22 Dec 06
I'm a cancer and it's usually pretty accurate about my personality. I don't put any faith in them but they're fun to look at.

• Philippines
21 Dec 06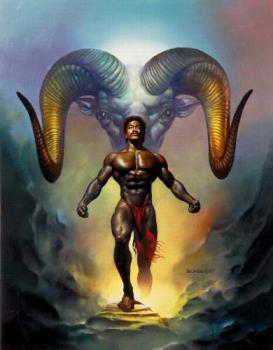 Aries March 21 - April 19 Aries is the first Sign of the Zodiac, and that's pretty much how those born under this Sign see themselves: first. Aries are the leaders of the pack, first in line to get things going. Whether or not everything gets done is another question altogether, for an Aries prefers to initiate rather than to complete. Do you have a project needing a kick-start? Call an Aries, by all means. The leadership displayed by Aries is most impressive, so don't be surprised if they can rally the troops against seemingly insurmountable odds -- they have that kind of personal magnetism. An Aries won't shy away from new ground, either. Those born under this Sign are often called the pioneers of the Zodiac, and it's their fearless trek into the unknown that often wins the day. Aries is a bundle of energy and dynamism, kind of like a Pied Piper, leading people along with its charm and charisma. The dawning of a new day -- and all of its possibilities -- is pure bliss to an Aries.