What kind of Mac do you have and what do you use it for?

Canada
December 21, 2006 1:03am CST
I have a Dual 2.3 Ghz G5 Powermac (PPC) with 8 GB of RAM, 2 x 500 GB hard drives, Bluetooth and Airport Extreme, and a 23" inch HD monitor, and I also use a second monitor but it's just a regular 19" flat screen. I use my Mac for a lot of things, but the main reason I shelled out so much cash for it was because I need is as the main tool for my music composition and production. Nothing does music better than a Mac. All art projects and creative tasks are done better on Macs anyway. Let me know what you have and what you use it for!
5 responses

• Portugal
5 May 07
I'm seriously considering buying a Mac Pro, for music composition. It's a bit expensive (2500€ without a monitor...) but it's a quad-core sytem (3.0 Ghz), 2GB Ram and a 250 GB hard-drive (of course I will expand it later). The only real issue is the price. If it had a monitor I wouldn't think even twice, but 2500€ for just a CPU it's quite a fortune. BTW, uvbnskoold, how much did that configuration cost you and when did you buy it?

• Philippines
2 May 07
i have a powerbook g4 12" and i use it almost for everything i need. i use it as my bible a journal, music companion, i compose things, i do programming in c++ and java netbeans. i do video editing with final cut pro and i am recording my songs on garageband. i really use it everyday. i like spending time with it at least 9 hours a day.

• United States
22 Dec 06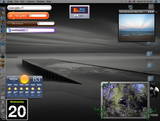 I have a Mac Mini (not the duo core one, though) with a ViewSonic flat screen and absolutely love it! I use it for everything except a couple of work at home projects I do that require Windows. For those I use a Dell and it's a nightmare keeping the thing virus and trouble free. Ahhhh, the beauty of a Macintosh!!!