what's the best book you've read?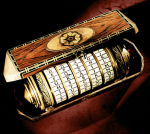 Philippines
December 21, 2006 3:40am CST
mine is Da Vinci Code and ANgel's and DEmons by Dan Brown
4 responses

• India
21 Dec 06
goosebumps...lol j/k i dont read many books.

• Italy
21 Dec 06
My prefer book is 'Cent'anni di solitudine' of Gabriel Garcia Marquez

• Philippines
8 Mar 07
It's very hard to choose a favorite book. I like the Discworld books, and the one I really like from there is A Hat Full of Sky and The Fifth Elephant. Chocolat is also nice, and To Kill a Mockingbird. Dan Brown's Da Vinci Code is probably the worst book I've read. Not for the fantastical ideas but the flow of the story leaves me a little dry. It's trying too hard to be an adventure book on too thin a premise and the main protagonist is such a wuss, I don't know how people would relate to him. But then that's just me.

• Philippines
7 Mar 07
Actually, I've read too many interesting books it's hard to tell which of them is the best. I could name a few: Malice by Danielle Steel, Fire Starter by Stephen King, Silent Honor by Danielle Steel, Wide Acres, Nathans Run by John Gilstrap. There's a lot more of them they'd be too many to mention all of them.