Coke vs. Pepsi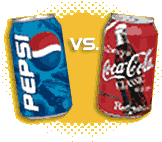 Brazil
December 21, 2006 8:42pm CST
Which is your favorite?:)
5 responses

• Brazil
2 Jan 07
Some people drink pepsi, some people drink coke and the wacking mornind dj says that democracy is a joke. Cake would say. Well, between cake (ooops, coke) and pepsi, i would prefere coke. But between Coke light lemon and pepsi twist, i actually prefere the second.


• Brazil
23 Feb 07
My favorite is Coke. Some people say that Coke and Pepsi has the same flavor ut I not agree, the flavor is totally different, Coke is better than Pepsi maybe because has more years in the market and we were tought drink Coke. The Glass Bottle 1L and ow we have until 3L. Coke is famous, who dont know coke? Nobody. All knows.

• United States
22 Dec 06
i don't drink soft drinks very often but when i do i prefer coke.