When was the first opertunity you go to work on a Desktop PC?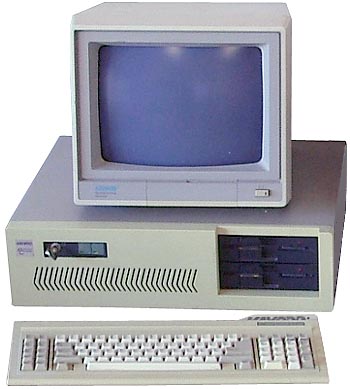 India
December 22, 2006 3:42am CST
Hi, Friends, I would like to share my experience regarding my first opertunity to work on a pc. It was some time during 1989-91 when I was studying 12th std where I joined computer science group. On those days there was old the old amber green screens with black backgrounds. The only colour I have seen green, then later when I started by college I have seen black and grey screens ( 1991-1994 ), from 1994 onwards those old crt monitors with huge size started coming in the market. Please share your experience.
5 responses

• India
22 Dec 06
i got chance in 1997 when my bro bring it at home i was in 9th standard

• India
22 Dec 06
Then I think u have started your play on the desktop pc from windows 95. U might not be aware of the old dos screens. Good exeperience. Hope that you would find a very vast difference between the day started in 1997 and now.

• Brazil
1 Mar 08
My first contact with a computer was in 1986 with a TRS-80 like. After this I use Apple II and XT in my school, and never stops.. hahaha

• France
21 Jan 07
i start using computer when i was 9 years old.that time,i urged my dad to enrol me in the computer class with a fee of,let me see,after convert now,USD 8.haha.i learned how to draw,yeah,i dont even know that time that i'm using DOS.lol.then,1995,my dad bought us our 1st PC.its very expensive compare to now.i learned everything then...

• Portugal
19 Jan 07
I like this topic. I have so many fond memories of the first contact I had with computers. It was in the early 80's. Sometimes, my father would take me to his office downtown and while he was working, one of the nice ladies from the office would sit me in front of this huge terminal, which was plugged to a printer, so when you typed, it would show on the screen but also on the printer. I didn't even know how to read or write at the time -- I must've been around 4 or 5 years old -- but I always felt proud when they handled me the piece of paper from the printer, full of "fkgdj98ldfi 09tasjfdjgdfjg"'s. Then when I was about 8 we got our first home PC, it was an Olivetti with a single floppy drive, you had to boot it up with a diskette. The first game I played on it was Lode Runner. Fun times :)

• India
19 Jan 07
i have first see the computer when i was taken computer application in B.Sc. in 1995 . that day i too use Dos ver. along with black screen but colour screen is also there in my computer lab .