Effexor while pregnant?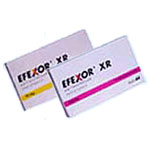 United States
December 22, 2006 8:46pm CST
Has anyone taken a low dosage of Effexor XR while pregnant? If so, what was your experience like? Did it affect your baby? I'm currently on it and want to have another baby but I was told by my doctor that I'd have to get off of it. I've tried once, but it was a disaster and now I'm terrified of getting off and getting pregnant...can I stay on a low dose?
2 responses

• United States
5 Jan 07
Effexor is really bad when coming off of it, but its gradual and temporary. No, you cannot take it while pregnant because your baby will become addicted to it and you dont want it to suffer those withdrawal symptons once it arrives, do you? It might also cause birth defects. So if you want another baby, get off of effexor thoroughly BEFORE conceiving!

• United States
23 Dec 06
You should talk to your doctor about changing your medication. There are many good antipsychotic, depression and anxiety medications that are perfectly safe while pregnant even though effexor may not be. They will find something that will work for you and be safe for your baby.