Thousands flee as war escalates in Somalia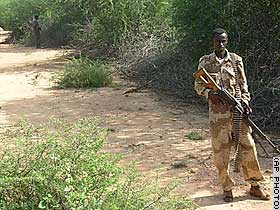 Philippines
December 22, 2006 10:47pm CST
MOGADISHU, Somalia (AP) -- Ethiopian attack helicopters and tanks headed for battle Friday as fighting raged for a fourth day between Somalia's Islamic militia and the country's secular government, witnesses and a government official said. Tens of thousands of Somalis fled their homes as the Ethiopian-backed government used artillery to push back Islamic fighters who had advanced on the regime's only stronghold, Baidoa. Islamic forces who have declared they want to bring the whole country under Quranic rule said the latest fighting had been started by the government but now they would launch their own attacks. Sheik Ibrahim Shukri Abuu-Zeynab, a spokesman for the Islamic movement, told reporters in the capital, Mogadishu, that the fighting so far was just a taste of what was to come."We will now start our real attack against the invaders and would not stop until we force the Ethiopians out of our country," he said. (Watch as Islamists swear to kick out Ethiopian "invaders") Residents in Baidoa reported seeing hundreds of government troops and trucks being moved toward the front lines early Friday, following a night of heavy artillery and mortar fire. Four attack helicopters were seen by residents headed toward the eastern front, outside the garrison town. A government official confirmed the deployment on condition of anonymity because it related to security issues. Somalia could be battleground for Eritrea vs. Ethiopia The increasingly violent clashes and deployment of attack helicopters could mean a major conflict in this volatile region. Ethiopia, which has one of the largest armies in the region, and its bitter rival, Eritrea, could use Somalia as the ground for a proxy war. While Ethiopia backs the government, Eritrea backs the Islamic movement. One government parliamentarian in Baidoa said he feared it will fall to the Islamic group. "More well-armed Ethiopians are pouring in here minute after minute and thousands of Islamic fighters are heading here to force them and the government out," he said on condition of anonymity because he feared reprisals. Families abandon livestock, homes; bodies in streets Bodies lay in the streets of villages where attacks had taken place Thursday night, and families began to abandon their homes, crops and livestock, fearing worsening fighting. Hundreds of people in areas held by the Islamic forces also were fleeing south to Mogadishu."I think we have lost hundreds of our animals in the fighting, most of them were caught in the crossfire," said Malable Aden, who reached Mogadishu by car. "We were supposed to reap our harvest of this season, but unfortunately we were forced to leave them behind for the pigs and birds to destroy them."The leader of the Council of Islamic Courts said Thursday that Somalia was in "a state of war" and called on all Somalis to fight Ethiopian forces in the country. Ethiopia denies its forces are fighting, but says it has deployed several hundred military trainers in support of Somalia's U.N.-backed transitional government."They (the Islamic group) are claiming that Ethiopia is fighting against them and this is totally false," said government spokesman Zemedkun Teckle. "If the time comes that we have to fight, it will be very clear to everyone and there will be no doubt because we will announce this to our people."No effective government in Somalia for 15 years The United Nations has appealed for calm, saying fighting would prevent aid from reaching hundreds of thousands in dire need of help because of hunger and flooding. Somalia has not had an effective government since 1991. The country's secular interim government, set up in 2004 and backed by the U.N., has rejected religious rule. Muslim leaders have insisted on an Islamic government. Somalia's internationally recognized central government holds only a small area around the central town of Baidoa, about 140 miles northwest of the capital of Mogadishu. The Islamic militiamen, meanwhile, control Mogadishu along with most of southern Somalia.
3 responses

• India
23 Dec 06
that is very bad to hear that still wars are taking place even in this matured world !

• India
23 Dec 06
People keep justifying Islam and Jihad so much that it is really start to hurt. The way these people , the so called flag bearers of Islam are ascting, Ordinary Muslim people who have nothing to do with extremists are loosing their goodwill. A muslim is supposed to check in for flights before others, if this trend continues soon muslim people will be banned from jobs, traveling without any verification will become an offense and no wonder if they are discriminated against in Jobs etc. These so called revolutionaries are cutting off their communityy from the whole world. Its really sad.

• Philippines
23 Dec 06
Religion, beliefs, culture should be respect. We should respect our own rights, religion, culture and beliefs. If only God is here, He will never permit us to have any other religion to believe in. We are the people in this world. We should know that every little here on earth are not meant to be argued. We don't need war, conflicts, killing or discrimination in order for us to be on top. We not need to prove something to the world, We need to everything to GOd that we worth it living here on earth.

• Janesville, Wisconsin
1 Jan 07
Thanks for sharing the article. But you should reply and site the source of where you had gotten it or if you had written it. I do agree with what you stated about the values, and getting along etc. Take care, - DNatureofDTrain