Okami: My pick for most innovative game of 2006.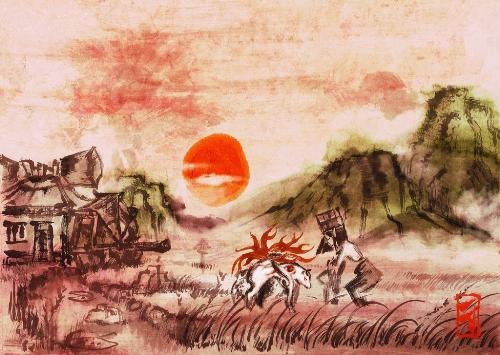 United States
December 23, 2006 6:57pm CST
There are no guns, aliens, or gangsters in this game, which may be why you won't be seeing a commercial for it on tv. But this is truly an orriginal offering from the now-defunct Clover studios. You play as Okami Amateresu, a character based on a Shinto sun goddess; who takes the form of a white wolf. She is the protector of the land and its people from the forces of darkness. Alongside the reluctant warrior Susano, and with the assistance of the diminutive (and lecherous)bug Issun; Okami battles to rid the land of darkness and poison. I am only about half-way through this game, and I already feel like I am taking a Japanese mythology studies class. It's a nice break from beating up zombies, I gotta tell ya'. The game has sense of positivity that few games embody. The whole point is about doing something constructive, not destructive. There is fighting in this game, and battle system is both responsive and common sense. A unique feature of the game is the Celestial Brush, which allows you to make changes to the environment in order to win battle, or solve puzzles. As yo progress, you gain different brush skills for specific tasks. The look of the game is based on the sumi-e tradition, or ink and wash painting. I have never seen a game that looks quite like this one, and some of the nature scenes are breath taking. I could almost recomend this game for young children, but Issun's risque comments regarding the female characters in the game may not be what you want your little kids hearing. (or rather reading, since no one speaks in this game) But everything else in the game is great for kids. I love the whole concept of healing the earth, and finding spiritual balance. Okami's deeds are not recognized, and the people in the game attribute them to other forces at work, or people like Susano. Okami does not get direct praise from the people, but rather receives praise in the form of "points" that can be used to expand Okami's powers. There are also many side quests along the way, making the game quite a long play. This game is out for the Playstation 2, but I think it would have been better on the Nintendo Wii, or even the Nintendo DS; the brush controls would have been more intuitive on those consoles with the Wii's wireless remote, and the DS's stylus. If this game comes out for either, I would buy it just for the experience of playing it on those consoles as well. I am so glad I picked this title up, and I hope that all of the creative minds that worked on this innovative game will create another awesome offering. RIP Clover studios, we hardly knew ye'.
3 responses

• United States
9 Sep 07
This game would've been better if it had been released on a real system, say, the Wii? Too bad Clover didn't do their research before they started attempting to create a video game.

• Calgary, Alberta
12 May 11
I love this game, Ammy is so cute and she is very badass, Its really a shame that this game is not a success. On the Positive note, Capcom still acknowledge Ammy and puts her in marvel vs. capcom 3. I love the innovations of this game. i lvoe the celestial brush and the bossfight againts Yami is really badass. a superior game. Its so sad that this game is not a huge hit. people are so into their generic shooters.

• India
28 Dec 06
Thanks for telling us about a new & innovative game Okami. This is the first time I am hearing about this game. Can you please suggest me some websites from where I can learn this game.

• United States
29 Dec 06
I got most of my info from wikipedia.com . They had all the info on Japanese myth and art relating to the game. At the bottom of the Okami entry page, there are links to the official website, and other gaming sites-- like gamefaqs.com, ign.com, and g4tv.com . I hope you get a chance to check this game out!

• United States
30 Dec 06
I also found this Capcom site for the game. ww2.capcom.com/okami/

• United States
20 Mar 07
I rent the game for five days and fell in love w/ the game I am trying to buy the game but it is too expensive to buy it