Toyota Rav4 2007 vs. Honda CRV 2007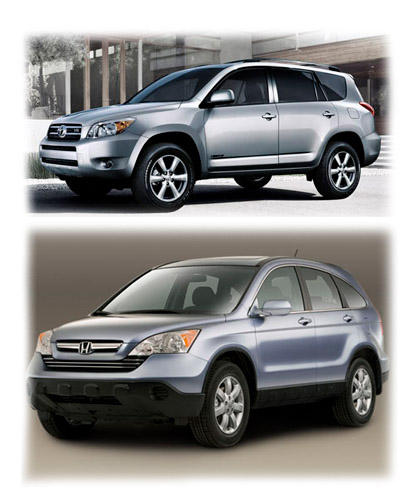 United States
December 23, 2006 8:36pm CST
If you were to choose between Toyota Rav4 2007 and Honda CRV 2007 which vehicle would you choose and why? Given that you got the same configurations for both SUV.
6 responses

• Indonesia
9 Jan 07
I havent seen the newest RAV4. But in the picture you posted, it looks pretty tough. I dont know anything about automotives, so I'll judge only by the appearance. I like C-RV, but it's getting too many here. So if I were to be given one of the car freely, I'd vote for RAV4, just to be different lol. Plus, cause it looks very handsome lol. Cheers!

• United States
9 Jan 07
Handsome.. wow what an adjective.. i hope you could have used that to describe me :) anyway i agree but looks can sometimes be decieving so be carefull with it. Post more on mylot so that we can both buy these cars ha.ha. :)


• United States
5 Jan 07
what do you mean more efficient? Efficient in terms of what? I hope you can expound. I know both cars have the same 2.4L engine and almost have the same specs.


• United States
4 Jan 07
Prices are pretty much the same. Both are Japanese cars so i'm really confused. Any more comment or response which car is best than the other?

• Canada
4 Feb 07
Rav 4.. 100%. I've driven both the current Rav4 and the previous one, and thought they were really good to drive. The is something about the look of the CRV that I don't like: it looks naked without a tire on the back, and I think it just looks a little odd...

• United States
28 Jan 07
I have actually been researching the Rav4 as I may buy one. I'm going to test drive today but I think the Rav4 gets better gas mileage and has some features I like the I don't think the CRV has---blue tooth, dual temperature control, etc. It also has scored great in crash tests.

•
9 Jan 07
If i were to choose between this two cars, just the way they look like cos i know nothing about cars really and beside you said they've got the same configuration so i think i would go for Toyota Rav4 cos it looks really really very nice. I always have a crush on this car. It looks tough.