what do u think about the statue of zeus???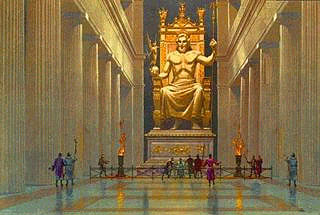 Romania
December 24, 2006 10:07am CST
This is the statue of the god in whose honor the Ancient Olympic games were held. It was located on the land that gave its very name to the Olympics. At the time of the games, wars stopped, and athletes came from Asia Minor, Syria, Egypt, and Sicily to celebrate the Olympics and to worship their king of gods: Zeus.It is located at the ancient town of Olympia, on the west coast of modern Greece, about 150 km west of Athens.heidias began working on the statue around 440 BC. Years earlier, he had developed a technique to build enormous gold and ivory statues.
1 response

• India
24 Dec 06
Ive seen its pics...it looked Very impressive.it was destroyed in the great fire of the Lauseion (Schobel 1965) One of the seven ancient wonders of the world!!