Can you swim??? Do you like swimming?

Bulgaria
December 26, 2006 2:57pm CST
I can swimm. Before i was going to competitions and win very prices and medals but now i haven`t got enough time and stoped :(
7 responses

• Pakistan
26 Dec 06
no i cant rather im through water phobia. have u ever won a medal!!!!!!!! is it true daqna. i fear.......... n yes welcome on mylot

• Spain
26 Dec 06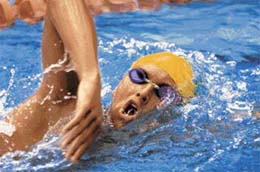 I like swimmining on the beach and swimming pool also, but its much more funny on the swimming pool, have a nice day on mylot and happy earnings also.

• United States
26 Dec 06
yes i can swim and i love it.

• Philippines
8 Jun 07
Wow youre a nice swimmer i think, i also know how to swim but am not been in any competion, if only i can turn back time then i would rather join in a competion for swimming. Good luck to you hope you got enough time to continue your career.

• Malaysia
30 Jan 07
Yes I can swim and I love to swim. It can give me pleasure and I really enjoy it!