Mandy Moore & Andy Roddick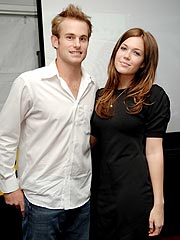 Philippines
December 26, 2006 7:30pm CST
whew! remember Mandy Moore in the most romantic/drama movie of all time!? A Walk To Remember... Oh goodness! i've seen that movie a thousand times.. i just can't get enough with the story and the characters.. i'm just loving it. so, how about the real couple who reconciled after they broke up but the thing is they are not a couple no more. they are just together because of a joint project or sort a charity works. i just love the relationship that two shared. dating for like two years or so.. it was love! & maybe they can work things out over again.. i hope so!i like mandy moore because she is a sweet gir. & good voice too... how about you? tell me something about mandy moore.. any roddick is a good tennis player.. take care
3 responses

• Romania
7 Jan 07
Hy Ann!this is my favourite movie! i've seen it 5 times in one day,,and i cried,,,similar at each time!,,im very sensitive and thats why! i loved the subject! tho romantic teenagers falling in love so romantic! but i did-nt wanted that END...it isn't fair at all!,,,after i've seen it ,,15 times,,,i started to make my own list ,,of things i desire from life with teard in my eyes! it moved so well this great movie!Mandy is a very beautifull woman, with a marvelous voice, an angelic one! i like that song from the movie called 'only hope'! great name because it has such a great connection with the movie!

• United Arab Emirates
7 Jan 07
Well i just loved it... very Romantic... touchy. Actually i was in tears at the end of it. It does says a lot about love, relationship & specially 2 different individuals... totally different from each others way of living... come 2gether to be one. Cool isn't it.

• India
1 Jan 07
this is 1 of the best romantic movies i think i have yet watched...n jus as u sd even i cant get enough of this movie....the characters, the situation and the depiction of love is jus too good....i love all the songs of this movie n got to say i aint 1 of those who love romantics very easily but this made itself stand out...this 1 changed my view a lot....offcourse her voice is so cute n she herself is too....and andy roddick excellent fellow real good tennis player....sorry i cant add much on them since know little but the movie rocks.