Do you have any exotic pets?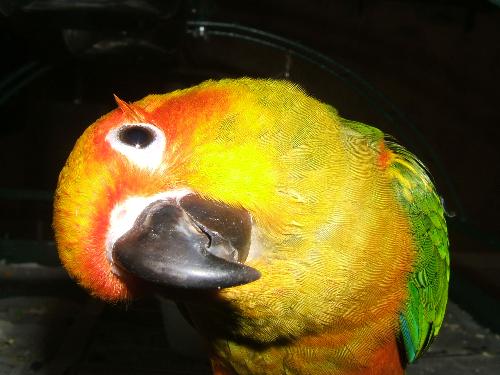 United States
December 27, 2006 2:42pm CST
My family has a few, but my favorite is our sun conure! I've posted a picture of him. I know that mylot users cannot use pictures in their comments anymore if they do not have a number over 500, but perhaps the rest of you can at least tell us about your exotic pets? Those of you who are able to, I would love to see some pics!
2 responses

• United States
30 Dec 06
I love your conure. He is very cute! I have several exotic pets, one of them is an African Grey Parrot. How is your conure about noise? I've always heard they are amazingly loud.

• United States
31 Dec 06
He can be a little noisy, but mainly just when someone is going in or out the door. He's not very bad at all. We also have a green cheek conure who is a little noisier, but I am not sure if it's the type of bird or if it's just him, because he's also quite the biter... our sun conure is not nearly as ferocious! The noisiest birds we've ever had were also the messiest... Quakers. I would only advise owning them if you have a lot of patience and high noise tolerance!! My mom has wanted an African Grey for soooo long, but they are a little on the expensive side! Does yours talk much? I've heard they can have very expansive vocabularies.

• United States
17 Jan 07
Oh, that is too cute! I have a gold-capped that's probably about the same size as your sun conure. His name is Frank and there's a pic on one of the conure topics I started just a few minuts ago. Like your bird, Frank LOVES to announce that someone is at the door.

• United States
29 Jan 07
I am not sure I'm familiar with that breed... I will have to go check out your picture. thanks for responding!