What causes dandruff?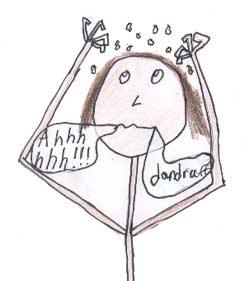 United States
December 27, 2006 4:28pm CST
The condition of your hair is a reflection of your body's general health. Its condition changes for the worse with stress, nutritional deficiencies, hormone shifts, and environmental factors. The real culprit when it comes to dandruff may be a fat-eating, yeast-like fungus called malassezia
2 responses

• India
28 Dec 06
Dandruff is caused b'coz of rough handling of hair, bad diet,sun exposure,conditioners(if not applied properly) and mainly lack of water and proper diet It can b cured only by making a routine in ur life and increasing intake of nutritious diet and tons of water DONT NOT USE CONDITIONER sply u dont know how to use them conditoners are never applied on the scalp... thy should b used on hair body .NEVER on scalp it makes the hair fall so no to CONDITIONERS.... use home remedies to make ur hair soft.... use henna with egg (for less hair fall),curd..(as a conditoner)... and tea water... for the softness and smell... and dont use SHAMPOO to wash this away.... apply oil after u dry ur hair after this hair pack.... and then keep it for 24hrs.. wash ur hair with a mild shampoo... if possible herbal shampoo.... which suits ur hair texture... i will suggest u a MILD SHAMPOO.... and dont apply it in big quantity .... try using less shampoo... and keep it open to dry dont USE A DRYER... it makes hair brittle....dont even brush wet hair..... never do anything with ur wet hair.... b'coz wet hair are brittle.... and then let it try naturally.... try not to expose ur hair to sun directly... use a bandana or a hat or a cap.... dont tie ur hair for long in a knot.... it makes hair fall.... and always sleep with ur hair amde up in a plate... if long otherwise .. a pony tail....and oil ur hair every 3rd day... and wash it.. with a mild shampoo..... if u r very much disturbed coz of dandruff use NIZORAL its a shampoo.... available in all chemist shops.... ue it and in 2 weeks u will c a difference...dont use conditioners... for some time... and no to chemicals of any type... Best of Luck.. i hope this all information is helpful to u .... Take Care of ur hair.. thts the only asset a Woman has....