LG Chocolate phone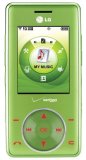 United States
December 29, 2006 5:56pm CST
Does anyone have one of the new LG "Chocolate" phones? I think they are adorable and am actually considering getting one of the "Mint Chocolate" ones. Just wondering if anyone has any feedback on how well they work.
3 responses

• India
10 Jan 07
The good: The LG Chocolate has a sharp design; satisfying overall performance; and a multimedia-rich feature set that includes Bluetooth, a digital music player, and a megapixel camera with admirable photo quality. The bad: The LG Chocolate's unique touch pad and controls entail a steep learning curve, and the phone suffers from poor streaming video quality and low talk-time battery life. The lack of a speakerphone is disappointing. The bottom line: Though the LG Chocolate is beautifully designed and offers a respectable mix of features and performance, it doesn't quite live up to the hype.

• United States
28 Aug 07
Actually the chocolate phone does have speaker phone, but the thing about the phone is that it has "heat seek" so sometimes while on the phone your cheek can activate a number of dirrerent functions including the mute button!! However I love the look if it and now they have the second version of the chocolate out which has a better button setup (ie they are placed in places that are less of a problem) I would recomend the phone but try out the phone at the shop so you can get a feel for the navigation.

• Canada
30 Dec 06
Laura, After you use this phone, will the side of your head start smelling like chocolate? What if you become very hungry and can't stop eating chocolate? What if you start eating your phone? You better think this through young lady, before you make anymore chocolate decisions! hehe