Origin of Love tattoo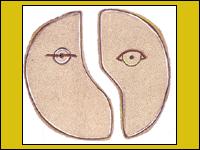 United States
December 29, 2006 9:15pm CST
I love the symbolism in Hedwig and the Angry inch. I was curious how other fans feel about the end of the movie when Hedwig is walking naked out into the street from the alley with a completed face tattoo on his hip.
4 responses

• United States
30 Dec 06
I loved the ending. To me, it symbolized that Hedwig has realized that he/she is a whole person without a partner, that everything he/she needs is there within his/herself. I love that movie so much, and I thought it was amazingly well done and a beautiful look at human nature and the desire for love and acceptance.

• United States
5 Mar 07
I love the whole movie, and it couldnt of ended any better then it did.

• United States
6 Apr 08
one of my favorite movies ever. like others have said, the tattoo of the whole fsce is symbolic of hansel being whole again and being able to be whole without having a partner. a great quote i heard about this was that it totally flies in the face of the whole " you complete me" phenomenon created by jerry mcguire.

• Philippines
15 Jan 08
Hedwig finally accepts that he is also Hansel and is now ready to face life as he really is. And he is not "angry" anymore. He was,in a way, duped by his mother and by Luther at the time he had the operation (of course, his mom was thinking only of what's good for him but I think his mom's idea of what's good is kind of skewed in the 1st place). The way I see it, he was ok with being Hansel, he only took on the persona of Hedwig so he could be free, not realizing until too late that in doing so, he just created another prison for himself. So from the time that Luther left him until the time he took off the wig, he was just so angry with everything and everyone. So when he passed on the wig to Yitzhak and walked out butt naked into the wide world, that's when he came to terms with himself. Isn't it obvious I love the movie?(and the songs, the songs are great.)