Why?

United States
December 31, 2006 12:55am CST
I just caught myself telling my kittygirl that "Mommy is not a chew toy".Why do people refer to themselves as their pets "mommy" and "daddy"? We are presumably different species, so how can we be "mommy" or "daddy"? I spoil her just like a child. I let her push me off my pillow at night and sniff my food. I kiss her on the nose. Do we just have parental feelings towards them since they "need" us?
8 responses


• United States
31 Dec 06
I think people have an amazing ability to humanize the things around us. i think pets are just as much a part of the family as other people. often they bring us more joy than other people, so it kind of makes sense to treat them this way.

• United States
31 Dec 06
Most of us treat our pets like our children. They are a big part of our lives. We of course spend a ton of time raising our children so they can grow up to be responsible and independent adults. At the same time we are also raising our "pets" too showing them right from wrong, making sure they are healthy, etc Our children and our pets both need us and depend on us. Cute kitty in your photo.Happy New Year.

• Australia
11 Feb 07
Some people might have a parental feeling towards their pets, but I am not one of those. We do have a dog and she has been with us for 19 years now, but I am not and never have been her mother. She is a pet and certainly well treated and possibly a bit spoilt but not to the stage where she is on our bed or anything like that. No an animal can be a pet but it is not human, no matter how understanding it might seem to be. Certainly they should be well treated and anyone who mistreats any animal should be charges with an offence. I have one child, and that is our son, although we do know people who have their pets inside all the time. Feed them at the table or off dinner plates but pets also go places where no humans would, and heavens knows what germs they will bring inside.

• United States
14 Jan 07
LOL! I do that all the time! We have a dog and two cats and I always refer to myself as their mommy... My MIL is NOT an animal lover, so if she hears me say something like that, she always has some sort of comment to make... not mean, but just to let me know she doesn't like it. But, I'm a grown woman! I can call myself whatever I want! lol! And yes, I let my dog practically push me off the bed!

• United States
5 Jan 07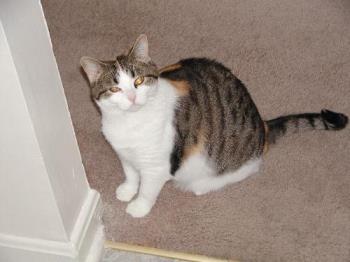 I think that might be the case. We do that with our cat too, I call her our first baby next to our daughter. But, my husband would look at me funny when I say that.

• Philippines
15 Sep 08
haha i guess since we have to take care of our pets, we regard ourselves as parents, much like we would take care of our own child. actually i don't refer to myself as "mommy" when it comes to my dog, but once when i was away and left my dog in the care of my sister, when it's time to feedher , my dad would tell her "go feed your niece!"

• United States
8 Apr 07
I adopted my dog, so, yes, I am her mama. If you don't believe me, you can ask her!! LOL She even has a brother, Smoky. He's a Cockatiel. She hates it when I pay any attention to him, a sibling rivalry. Smoky loves her and is constantly giving her kisses and calling her name. They are both probably more spoiled than any child. They wouldn't have it any other way and neither would I.