Recipe For This Coming New Year Find Out!!!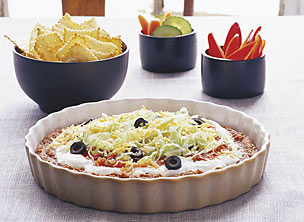 Philippines
December 31, 2006 2:01am CST
Ultimate 7-Layer Dip INGREDIENTS!! 1. 1 (16 ounce) can TACO BELL HOME ORIGINALS Refried Beans 2. 1 tablespoon TACO BELL HOME ORIGINALS Taco Seasoning Mix 3. 1 cup BREAKSTONE'S or KNUDSEN Sour Cream 4. 1 cup TACO BELL HOME ORIGINALS Thick 'N Chunky Salsa 5. 1 cup shredded lettuce 6. 1 cup KRAFT Mexican Style Shredded Cheese 7. 1/2 cup sliced green onions 8. 2 tablespoons sliced pitted ripe olives 9. RITZ Toasted Chips Original or WHEAT THINS Baked Snack Crackers COOKING DIRECTIONS 1. Mix beans and taco seasoning mix. Spread onto bottom of 9-inch pie plate or quiche dish. 2. Layer all remaining ingredients except chips over bean mixture; cover. Refrigerate several hours or until chilled. 3. Serve with chips. Yield: 48 servings (Serving size: 48 servings, 2 Tbsp. dip and 14 chips each) Still Hungry With so many flavors and colorful layers, this is the ultimate party dip. Best of all, you can whip it up in 10 minutes. Notes:Size-Wise Savor every bite of this tasty dip. Each 2-Tbsp. serving goes a long way on flavor. Make Ahead Dip can be stored, tightly covered, in the refrigerator up to 2 days.
No responses