How to get a dog to settle down??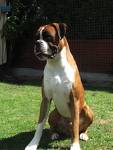 United States
December 31, 2006 9:12am CST
I have a 7 month old boxer who is very hyper.. she loves to jump on you and is just very excited.. what can I do to get her to stop??? and how do I get her to stop using the bathroom everywhere???I believe the last people had her abused her and maybe she is still messed up from that a little but what are some things I can do for her?
1 response

• Australia
31 Dec 06
when your dog jumps up on you knee it in the chest that will do the trick,keep doing it and she or he will soon learn.as for the other well take it on a lead to where you want it to go every day after you feed them they will learn if you keep it up .best of luck.