PayPal: Horror Stories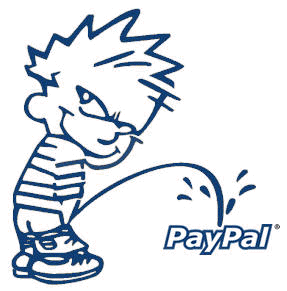 India
January 2, 2007 2:21am CST
Frozen accounts, double dipping, class action lawsuits, fees!!! I was shocked when i learned that paypal has more lawsuits than michael jackson and tacobell combined!!! there is actually an Anti-PayPal Community, i have not yet withdrew any amount from paypal, but after reading from the link below, i have my doubts whether my money is safe!!!! the story that had me shocked the most was when they froze the katrina hurricane relief funds, thats just low!!! http://www.paypalsucks.com/ http://paypalsucks.com/forums/ Personally i dont know if any of this is actually justified, but just thought that mylot community should know about these allegations of frauds and lawsuits that paypal faces!!!
4 responses

• India
2 Jan 07
That's scary buddy. What do you suggest? If something goes wrong then, all our hard work of submitting discussions will go wasted...OMG!!! Hopping for the best to happen, though..

• India
2 Jan 07
well, i dont know if we should be really worried bou anything, i mean any site that deals in such a large scale is bound to have a few bumps on the road!!!

• India
4 Jan 07
sounds interesting to hear horror stories,and i enjoy discussing these with my friends but really afraid when think of it in loneliness

• United States
2 Jan 07
I have used Paypal for about 4 years and have not really had any major problems with them. Now I have had some issues with getting an address change made, or mostly customer service issues, but that is about it. However, I do have to say that all it will take is ONE major issue with them for me to make some other arrangements for my money.

• India
2 Jan 07
I am afraid to hear to these stories. but, many say that paypal is the best & secure website for transaction than any other websites. I was believing only paypal. if it sucks no other way for me to belive & do the transaction.