have stopped driving a motorcycle for a year, now am scared to drive again

Philippines
January 3, 2007 9:20am CST
i learned driving a motorcycle when i was in first year high school, about 13years old. when i went to college i had to leave my hometown and my motorcycle. since then i stopped driving it. It's been a year now with "no driving" and almost 7 years of just occassionaly driving. Now am afraid to drive much more we have a new motorcycle, a more advanced one. i wish i could drive again.
6 responses

• United States
24 Jan 07
If you go back to riding it, you will not be afraid. Just make sure that you wear your helmet and drive defensively, watch those cars. It is dangerous, but it is fun, isn't it?

• Philippines
27 Jan 07
thanks margieanneart. yes riding the motorcycle is just so much fun. thanks for responding.

• United States
5 Mar 08
Sit on your bike, sit still for a while. Get familiar with the controls again. Take an intermediate safety course for refresher. You'll be ok! :)

• Philippines
5 Feb 08
I am pretty sure you could drive again. It's just a matter of refreshing back what you have learned in motorcycle driving. You need not be scared, ok? You can still do it on your own. :)

• Philippines
6 Jan 08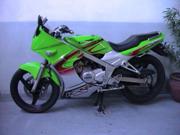 It's really dangerous to ride on a motorcycle. Don't drive anymore if not extremely necessary. My son rides on a motorcycle in going to and from work. I'm so scare but that's what he likes. It's very much more convenient and cheaper to ride on a motorcycle when he goes to work and so he prefers to have his own ride and that is the motorcycle.

• Philippines
21 Dec 07
I just also stopped driving recently. Up until yesterday, where I borrowed a motorcycle from my friend. When I was driving it, it felt wierd. Guess you just have to get used to the feeling all over again. Ride safely!