what makes you angry?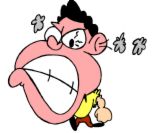 January 3, 2007 12:07pm CST
what makes your blood boil? is there any news story that makes you angry? is there a certain person who makes you angry? are you easy to get angry or does it take a lot? when i was younger i use to fly of the handle at anything but now im older it takes a lot to make me angry how about you what makes you angry.
1 response

• United States
3 Jan 07
a person that lies about any and everything for no reason. i hate compulsive liars

•
3 Jan 07
yep i have to agree with you there i use to have this mate and all he did was lie he would say one thing to one person and another thing to someone else.