How Spoiled are your Pets?

Canada
8 responses

• United States
4 Jan 07
I was told I was spoiling my dog by buying her a Christmas stocking and hanging it up with my daughters until Christmas. I can;t imagine taking her to a doggy spa, or day care. She is one of the family, but she doesn't get to eat at the table and she isn't pampered like a princess.

• Canada
4 Jan 07
she isn't to spoiled, just treated like a member of the family.

• United States
11 Jan 07
I consider my cats and little dog a big part of my family so I spoil them with little toys and food treats. They share my home with me and give me a ton of love but as far as spas and day care I just can't afford such extreme luxuries. I had no idea that there were restaurants that cater to humans and their pets.

• Canada
12 Jan 07
i think we all spoil our animals a little, but those with money over spoils to much LOL. thanks for the post.

• United States
12 Jan 07
Well yes I have a very spoiled 18 month old Chocolate Lab Named Hershey. He gets away with things that I would have beat my kids for LOL. He is the sweetest dog. We made sure he went to all the training classes and so he's very obedient, but we can't say no to Toys or table scrapsm or rides in the car or allowing him on the love seat etc..... he thinks he's human and he is a total loyal sweet dog. We are very lucky to have gotten him.

• Canada
13 Jan 07
All it mean is you love him and care very much about him. thanks for the post

• United States
12 Jan 07
My pets are treated like family and are pretty spoiled. I buy them a lot of toys and treats quite frequently. I treat my pets like my children. It just feels like the right thing to do.

• Canada
13 Jan 07
sometimes it is the right thing to do. Sometimes that is all you want to do is spoil them.

• United States
7 Jan 07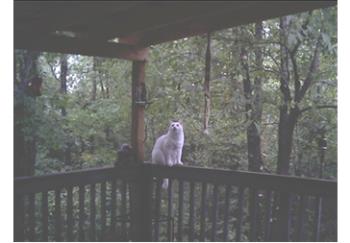 I don't have the high finances for the spas and the expensive cat condos, etc. for my cat, but he is definitely spoiled and he IS part of the family. When I'm eating something that he loves, he knows he'll always get a little of it, from turkey to ice cream!...lol...he's loved and pampered in every way I can. The only things expensive that I DO make sure he gets is nutritious dry food and he also gets a special herbal supplement every day with his supper. Most of the time I guess I take better care of him than I do myself!

• United States
7 Jan 07
Well ours are a bit spoiled but not overly spoiled. They share our furniture and our beds but we don't have them eating at the table or anything like that. They are members of our family, always have been always will be.

• Canada
7 Jan 07
it amazes me in places like Paris they have restaruants especially designed for people and there pets. I am amazed at what people do for there pets. thanks for the post.

• United States
5 Jan 07
My cats are so spoiled they have their own room and I decorated it and I know that I would not have it any other way.

• Canada
6 Jan 07
they are truely a part of the family. thanks for the post

• Canada
4 Jan 07
Lets see, heat pads for each bed, each cat get a sardine or raw shrimp before breakfast...the have their own bedroom with toys and treehouse. They go to a groomer monthly and the top show cats get full training. Yeah they are spoiled. But if you look into their eyes you'd do it aswell.

• Canada
4 Jan 07
now they are spoiled, but cats tend to beg for it. part of history i guess.