where, how, and who with? spend your christmas?

Philippines
January 4, 2007 11:17am CST
i spend my christmas with my girlfriend and her family... before we go there in their house we came from my hose with my family... we spend christmas eve together, happy, and have a faith and hope in god for the two of us and gor our family and for the world... peace in our heart.
2 responses

• India
10 Jan 07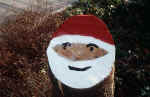 tips to save money on this feast Have a warm and cozy Christmas the old-fashioned way. Pop some popcorn and string it up all over the house! 22. Add some cranberries to your popcorn string for a touch of color. 23. Decorate your house by bringing the outside in, using pinecones and acorns! Sprinkle with a few drops of pine scented oil if you have it on hand, I know a lot of you just might! 24. Invest in an artificial tree after Christmas - when they go on clearance!

• Romania
4 Jan 07
hy i spend my Christmas with my boyfriend to.We went for my place and we made Christmas with my family.Before that we meet some of my friend's and then we stay at home, we watch at the artifices, we watch Tv we listen music, we played games and many other stuff.