The Art of Exotic Dance for the everyday woman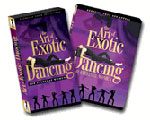 United States
January 4, 2007 2:55pm CST
http://www.artofexoticdance.com like most people, my resolution every year is to lose weight. now this isn't something that would directly make you lose weight (well maybe) but it says that its supposed to boost the self confidance of a woman. now since i've been over weight most of my childhood life, i don't have much self confidance, so i was thinking about doing this. my question is has anyone tried these videos, classes or private instructions and has it really worked for you? do you feel better about yourself? has it helpped you love life? do you feel shy while doing it because just watching it makes me feel embarased. i don't know if i could even do it in my own home.
4 responses

• United States
20 Jan 07
I have thought about doing this, but I have not tried it yet. I have also been overweight most of my life and really want to lose the weight. I dropped 40lbs a few years ago and it really helped my self confidance but I gained the weight back when I went to college. I have noticed my donfidance is back to low.

• United States
21 Jan 07
i know how you feel. i had lost a lot of weight in high school and i had extream confidance. when i met my husband at that time, he said i had a lot of independance and the confidance is sort of what attracted him to me. after having our 2 kids, i'm at my heaviest and my self-confidance is a little low...also, the doctors are hounding me to lose weight...


• United States
9 Jan 07
I can rarely walk without tripping let alone dance....but you got me laughing thinking about what exotic dance is as a real defination. I think of belly dancing or hula or even the tango...but Im an old woman!!

• United States
4 Jan 07
I took some exotic dance classes. I had a brief stint as a cage dancer, actually. I loved them. I never felt shy, but the classes I took were full of encouraging people and it was a safe and friendly environment. And they definitely helped me with my self confidences and it does help you get in shape some.