I grow with Marie Biscuit!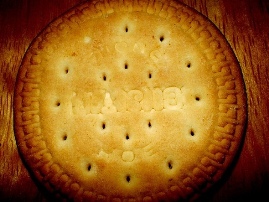 Malaysia
January 6, 2007 12:26pm CST
One can say that Marie biscuit is like a relic. It has been around for as long as I remember. I found it rather beautiful. Well, Marie biscuit is as boring as white bread and yet essential as it too. Long before we have fancy cookies and expensive biscuits, Marie biscuits have been the thing to feed children, big and small. I suppose almost everyone has grown up with it. But there is one thing that I am always curious to know. Why is the biscuit call Marie? Is it originally bake by a lady name Marie?I tried on search engine but unfortunately there isn't much I can dig out. It shall remain a mystery to me. Then, again, I never like Marie biscuits because that's all I get to eat when I was small. So, now I do not want to see it that often anyway. And I am considered the worry wart new parent who insist to know the exact ingredients in the food I feed my small child. So, I had succumbed to the more expensive biscuits made for teething kids.
1 response