gettin more hotter and less talented..............

India
8 responses

• India
7 Jan 07
I Agree With U. She Is Moving Towards Fame Then Her Actual Job.

• India
13 Jan 07
hi karan, well yeah it seems she had an bad year..but we need to consider this she was a newbie in first year when she did that good work..and everyone goes through the bad.. i think she will be able to recover from it this year..she only needs some time ato get back into grove...and for getting hotter..she is a team and a sporting teen gal..she is going to get hotter wether she performs or not

• India
1 Jun 07
i totally disagree with u , she is becomming hotter but she is also working hard on her tennis ,though not doing well enough in singles, but improving on her doubles ranking.

• India
17 Jan 07
how can talent reduce brother??? its jus dat she isnt tapping her potential properly...

• India
15 Jan 07
i think v r expctng 2 much 4m a new comer lik her....2005 ws a miraculous yr 4 her....but 2006 saw a steep dwn slide in her carreer graph./..that ws bound to happen...I think she needs to concentrate on her game..n its nt about her looks..cmon if shes sexy is dat sumthng bad....shes jst need sum practice n sum luck....n she'l strike gold

• India
15 Jan 07
No, that is not true. I agree that her year doesn't go well. She did fade a bit but I am sure she will fight back. She is a great talent and Youth Icon in India. She has a great support and i am quite sure insha-allah she will make it better once again.

• India
14 Jan 07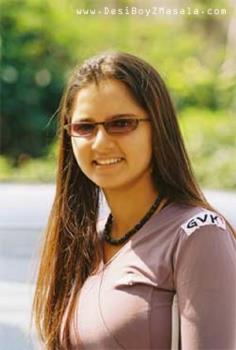 sania mirza is my favourite tennis player.Sania is the current youth icon in India. Coming from Hyderabad, this teenager is creating history in Indian tennis by becoming the first ever Indian to break into the top-50 WTA rankings. Still not out of her teens, Sania Mirza has got a huge fan following, both inside and outside the country. i heard Sania's ambition is to one day become one among the top-20 in the world.may god help her to full fill her ambition.At the rate in which she is going currently, that day is not far off. best of luck sania....you are amazing

• United States
10 Jan 07
I don't really know this artist that well, so I can't say anything here.