do you think chickens have intelligence?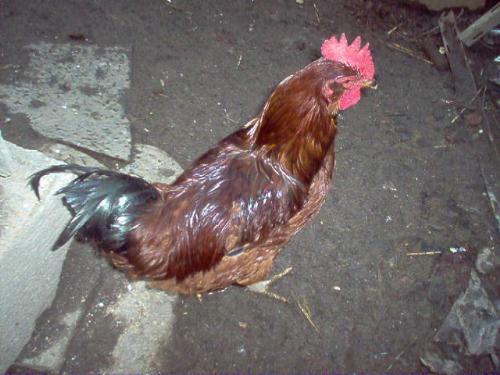 Romania
7 responses

• United States
27 Oct 08
I firmly believe that chickens are very intelegent creatures. They can be trained to do tricks and they will come when called by name. My chickens get jealous very easily and theyre very protective over their food. I have a lot of cats and they are terrified of my chickens because once when they were just kittens, they wandered into the chicken yard area and tried to get food. Oh that was a mistake that they definitely learned not to make again while the chickens were there. My hens just ran to the food out of NOWHERE man and just amubhsed the poor kittens. One kicked while the other pecked. So basically they werent harmed but tehy were pretty much scarred for life. Any other cat that tries to mess with their food would suffer the consequences. When i brought home three more baby chicks from the farm, my two rhodies just FLIPPEd out! they kicked open their coop door and kept kicking the chicks cage and clucking really loudly. xD jealous little cabbages. I have quite a few chicken stories but over the two years ive had my rhodies, yea i know that they are intellegent. ;)

• Philippines
13 Sep 08
I think chickens have intelligence but only in their instinct. They live their daily lives based on their animal instinct, they eat, run, sleep and any instincts they have. Unlike humans, this birds had only a little capacity to think which results to their smaller instincts.



• Australia
1 Feb 07
Nope, not so stupid. Our chooks know who feeds them and who doesn't, and if you create a new 'nest' they will only use it if it has a low roof. They also worked out how to get out, and ever since, they've been a pain to keep in! They won't get out until our backs are turned. Little ratbags!

• Australia
21 Jan 07
With my chickens they don't seem to be that intelligent. If I open the gate to their pen to let them run in the backyard, they seem to have trouble finding a way out, even though they have just seen me open the gate.They keep running up and down next to the wire until they find their way out. Funnily though, if I leave my back door to my house open they can always find their way in there. They also like to dig near the fence and put their heads under, right next to the dog on the other side. Fortunately I haven't had any lose their heads over this.