Do u like to visit Mecca?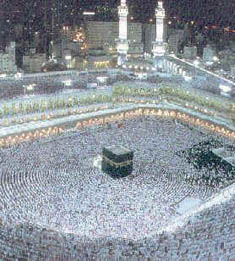 United States
January 7, 2007 1:34pm CST
9 responses


• Malaysia
3 Feb 09
I wish to go there to do hajj. This year my grandma will do hajj, I hope She can do well. Mecca is one of the holly land, and of course as a muslim I want to go there. I learn some history about Muhammad The Messenger and how He spread Islam. I want to see Hira', Uhud, and Kaaba. I hope I can do hajj or umrah before I'm old.

• Indonesia
2 Feb 09
Yes, I do like to visit Mecca. First is the most important thing, i.e. pilgrimage (hajj). Second one is to visit the fundamental landmark in Islamic history as has been left by Our Beloved Prophet Muhammad SAW. I want to see the place where Islam, my religon, is born.

• Malaysia
1 Mar 07
My dream is want to perform hajj at some day in future at Mecca, and I always pray to ALLAH for it. Hopefully my dream come true.

• Pakistan
19 Jan 07
Yeah it is my wish to visit the land of Ka`aba I wntt to see the mecca and offer prayes in Masjid ul haram

• Malaysia
10 Jan 07
I leave in Malaysia, I never visit other country but if I have an opportunity, first place I want to visit is Mecca or Madinah. I want to see Kaabah and perform prayer at Masjidil haram. I want to taste holy water, zam zam and original date in arabic soil. One day I will come to you Kaabah....insyaAllah.