Rub the genies lamp and make three wishes...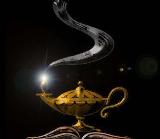 United States
January 7, 2007 11:42pm CST
ok time to send our wishes out into cyber space and into the universe... If you found a genies lamp on the beach and was allowed to make just three wishes...What would they be?Now you can't wish for more wishes...that's the only rule!Other than that ..wish away... Don't worry you don't have to send this to ten people in 5 minutes or you will be hit by a truck ( ugh i hate those kinds of emails don't you?) Ok...after some thought, here is mine... A log cabin in the mountains The knowledge of the top ten genius in the world and ...ughhhh... Global peace:) and you??
No responses