anyone knows how to prevent hair loss/greying of hair??

India
January 8, 2007 9:18am CST
hello people, i know all of u,including me,are here to make money but in the way if we help out each 0ther it wont be bad,will it?? i'm suffering from this problem of hair loss since the last 8 years..and i'm jus 21 now.my hair have started greying as well,though primarily they're black. if any of u knw a remedy to it,please let me know
8 responses


• India
18 Jan 07
hey mate i dont feel that way.in my family no one hs got this problem of greying.my father hs gt hair fall but still,its different from greying.my brothers hair are perfectly all right and my mothers fall once a while.anyways,thanks for participation but i was expecting a solution


• Italy
23 Jan 07
To prevent greying my wife is using a product every 10 days, that is a kind of colorizer. To prevent loss, I had bad results, so I am not the best person to tell you.

• India
23 Jan 07
there can be many causes for hair loss.one reason can be hormones disbalance .8 year is really very long period.other reason can be lack of protiens ,minerals specially iron and vitamins in body.get some vitamins minerals capsules.do have one vitamin-E 200 mg capsule a day.see your doctor to know the exact reason for your hair fall.

• Malaysia
22 Jan 07
Me too losing hair. Try these: 1. use good shampoo. scalp care or damaged hair ones. avoid 'for oily hair shampoos' 2. Get a bottle of hair loss treatment from your nearest pharmacy 3. Don't think too much 4. Don't stresss too much 5. Listen to some of those who already posted responses

• Philippines
22 Jan 07
i have heard some elders suggest that virgin coconut oil should be applied to our scalp at least once every 2 weeks to achieve a condition that would prevent hairfall. they say it all boils down to taking care of the scalp. we can also try minimizing the use of a variety of shampoos. find one that really works, and stick to it.

• India
19 Jan 07
for ur hair wash it with a mixture of gram flour + curd + 5-6 drop of lemon juice, twice in a week try it for 3-4 week it completly stop falling & after 1-2 month u observe for growing new hair on your head olso take more vit c in ur diet for ur hair it realy work belive it & try.this always work on any kind of hair fall or any kind of hair problem. have a mylot day.

• India
16 Jan 07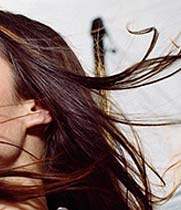 Certain home remedies have also been found useful in case of patchy loss of hair. The seeds of lime and black pepper seeds, ground to get a fine paste, is one of the valuable remedies. This paste applied on the patches, has mildly irritant action. This increases blood circulation in the affected area and stimulates hair growth. The paste should be applied twice a day for a few weeks. Another useful remedy for patchy loss of hair is the paste of liquorice (mulethi) made by grinding the pieces in milk with a pinch of saffron. This paste should be applied over the bald patches in the night before going to bed.