Which is your favourite sport ....?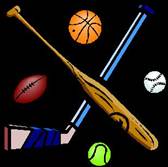 India
January 8, 2007 9:27am CST
Hey guyz ... which sport do u like the most and why? i like to play cricket and football. and i love to watch them both equally. I like cricket because i like to hit the ball with the bat b'coz i m perticuarly a batsman .. lolzz.. and i like football b'coz this game is different than other. Whenever u play this game u just act as a part of it. you just forgot where u r. this is really an energetic game and requires full strenth to play. what's your opinion guyz ....
1 response