Do men gossip?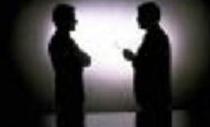 India
January 9, 2007 4:20am CST
Gossip tag has always been with the females only. Do you think men also gossip? I dont think that men dont gossip. What you feel? If they do, what would be their topic of gossiping, females or politics?
3 responses

• Philippines
20 Jan 07
Good timing. I just recently experienced guys gossiping. So, my answer would be, no, not only girls do gossip about someone. Men gossip too. And they're the worst gossips ever. When they gossip, they either exaggerate or deduct an important information when they tell a story. It's annoying and at the same time disgusting. I never knew men could do such things. I thought men would just remain quiet over a topic especially when they don't have anything to do with it. But, well, I was so wrong for thinking that gossiping is just a girl thing.

• Nigeria
9 Jan 07
gossip is an attitude not left alone dfor women although they seem to have more time for that but men do gossip too men who are lazy or jobless are more prone to this